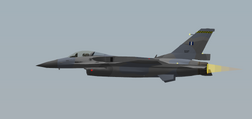 The YS Hellenic Air Force F-16 Demonstration Team Zeus is the virtual counterpart of the real HAF Demo Team for the YSFlight community founded by YS Flight pilot Kilo 11 in late 2011.
The virtual Greek F-16 Demo Team was born in early September of 2011 when the then newbie YS pilot Kilo 11 came across the Project Falcon pack uploaded by Iceman, which contained 3 greek AF Vipers. After getting permission from Iceman, The Team started out flying the F-16C Block 52+ SN.141 and weeks before their first show, Kilo 11 was joined by Martin - Dutchie who volunteered as Modder for the Team and together started working on the addon and to make it look like the real life jet, which, due to real life circumstances, would not be released until late December of that year.
The YS HAF Demo Team debuted on Saturday October 29, 2011 at the 2011 YS Jones Beach Air Show with a not so nicely performed routine. After this, the Team choose not to fly at any show for the remainder of the 2011 season and focused on practice and improvement of the display. In late December, Thanks to Martin - Dutchie, a greatly overhauled and improved addon is released with details matching those of the real jet. including the tail number 537. The Team would not be seen at any show until the 2012 YS NAF El Centro Air Show which was held on Saturday March 17, now with a vastly improved demonstration.
After its performance at the 2013 VNAF Airfest in July 12-13, the Zeus Demo Team entered inactivity in August and will remain so for the foreseeable future.
- 2011 YS Jones Beach Air Show
- 2011 Wake Island Airfestival (Cancelled display)
- 2012 NAF El Centro Air Show
- 2012 YSFlight International Air Show (Postponed then later cancelled)
-2012 HAVA YS Vizion Air Show
-2012 VNAF Airfest
-2012 YS Royal International Air Tattoo
-2013 YS Newcastle Air Show
-2013 VNAF Airfest
The 2012 aerobatic season Team comprises:
Kilo 11 - Demo Pilot
MartinD - Reserve Pilot/Modder
- Narrator (Position open)