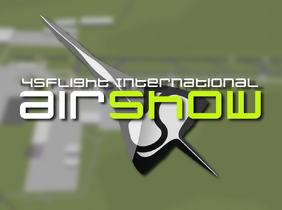 The YS Flight International Airshow (often abbreviated to YSIA) is the longest running YS Flight airshow, hosted on an annual basis since 2007 by the YS Airshows aerial events committee.
Every year since its conception, the event has been held at Gatwick Airport in the United Kingdom, utilising a modified version of the stock Heathrow map.
Editions
Edit
2007 YS Flight International Airshow
YSIA 2007 was the inaugural edition of the YS Flight International Airshow, organised and hosted by a small group of individuals for the benefit of the YS Flight community. The event was one of the first of its kind, providing a quality standard (including live narration and music) for a new era of future virtual events. The event itself was also the very first two day YS Flight airshow, with activities held over a summer weekend in August. Aerial highlights at YSIA 2007 included a solo performance by the YS Flight Blue Angels demonstration team, a Eurofighter Typhoon and the United States Air Force Heritage Flight. Following the conclusion of a successful event with over 30 attendees, the temporary organising team formed a permanent committee - eventually to be known as YS Airshows (YSAS).