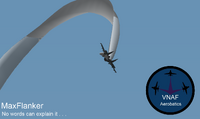 VNAF is mainly all about making the YS Flight community better. He has a mixed history in many places around the community since 2010. He participates in various activities such as aerobatics, civilian events, and combat in order to build the reputation of YS Flight and ultimately make it fun for everyone. Currently, VNAF's largest roles belong to leadership in the combat and aerobatic communities as well as marketing and branding of YS to the general public.
YSFlight History Edit
Joined the community at YSPilots.com in June of 2010. Spent his first months flying as "Number34" on the public servers offering Air Traffic Control to anybody who was flying, giving headings, altitudes, and instructions to guide each player to their destination safely. He joined the 2010 YSAS Airshow circuit as the Virtual YS ACC East Coast Warthog Demonstration pilot. Taking a liking to virtual air shows, he wanted to continue thriving the virtual airshows in YSFlight, realizing their potential marketing value. In October of 2010, he started what was known in the community as the only aerobatic squad, VNAF Aerobatics. VNAF Aerobatics has grown in reputation and has since revolved its priorities from demonstrating in air shows to attempting to host some of the largest and most entertaining gatherings in the YS Flight community.
In the fall of 2010, VNAF joined the VFA-49 Ghosthawks. In late 2014, after the brief departure of VicViper from YS, VNAF along with Stingx took on the responsibility of managing the squadron. The two began a plan to rebrand the 49th, due to its appearance to the community as an aging squadron with an outdated fleet. Between November 2014 and Summer 2015, the VFA-49 saw a massive rebranding campaign with changes in everything from its logos to its home base. VNAF took over the VFA-49 in March 2015 and continues to lead the squadron today.
VNAF ONE became a staff member of YS Flight Headquarters in 2013 as a Community Manager for the aerobatics sub-community. He served as a staff member until his resignation in April 2015. Seeing another opportunity to serve the community, he ran for and won in the first election for YSFHQ Staff members in August 2015 and continues to serve his first 6-month term.
AffiliationsEdit
YS Blue Dolphins Jet Team
YS Blue Spectres Jet Team
YS USAF ACC Razor Demo Team
YS USAF ACC A-10 East Coast Demo Team
VFA-49 Ghosthawks
My YSFlight Gallery
Edit