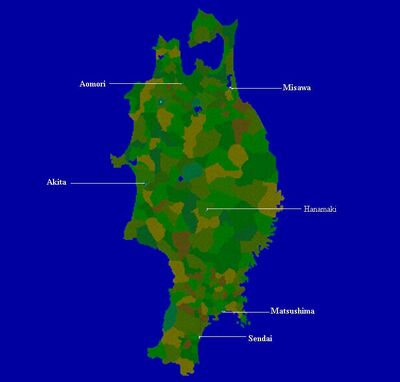 Tohoku is the Tohoku Region of the north end of the island of Japan, north of Fukushima, and minus Yamagata Prefecture. Tohoku has the second-greatest distance between airports of all default maps in YSFlight. With minimal terrain obstructions and a majority of large airports with Instrument Landing Systems(ILS) available, Tohoku is ideal for instrument flight.
Airport information for Tohoku:
Misawa:
Aomori:
Rwy 06/24, ILS both ends, too short for large jets (A340 fail take-off)
Akita:
Hanamaki:
Medium airport
Rwy 02/20, small tarmack on 02 end, with tiny taxiway. Max capacity would be 2 small a/c.
tight for medium jets (A320 on take-off, B737 on take off)
Sendai:
Rwy 09/27, longer, ILS both ends
Rwy 12/30, shorter
Matsushima:
Rwy 10/28: Has ILS both ends
Rwy 15/33: Has ILS both ends but is too short for medium airliners(A320 fail takeoff.)
The taxiway closest to 28 is too close to a hangar, large a/c will clip a wing.
NOTE: Miyako: is a VOR transmitter, not an airport.