We're Getting Mutants in the MCU - The Loop
Play Sound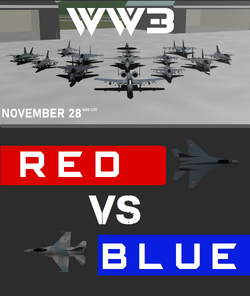 Red vs Blue (RvB) is a recurring World War 3-based combat event organized on YSFHQ by Crazypilot, UltraViolet, and Decaff 42. Using aircraft based on the 2ch General Air Combat (GAC) pack, two teams fight an all-out Air-to-Air and Air-to-Ground battle for 1 hour in each event. Points are assigned for different types of kills and objectives which directs team strategies. At the end of the hour the team with the most points wins.
Past Events
[
]
26 September 2020

[

]
The first Red vs Blue event was held on 26 September 2020, using the unmodified GAC aircraft and 2ch Map Ver 10905.
Results: Blue Team won with a score of 19150 to 14550.

28 November 2020

[

]
RvB 2 was the first event with modified GAC aircraft. A set of 7 classes were developed so that each side would have aircraft with identical performance, balancing the playing field. The base map for this event was 2ch Map Ver. 100905 but with additional ground objects hosted by the server.
Results: Blue team won with a score of 22370 to 20965.

13 February 2021

[

]
RvB 3 marked the first time the event took to the skies of World War 2 over the English Channel. Originally scheduled for 06 February 2021, it was delayed one week to finalize the map and aircraft that were specially created, modified and balanced for this event.
The custom map was made by UltraViolet (Waspe414) and can be downloaded on YSFHQ at this topic. The aircraft developed for this event were modified versions of select Allied and Axis aircraft from Taskforce58's Down In Flames pack by Crazypilot, Ultraviolet and Decaff_42. You can download the pack on YSFHQ at this topic.
Results: Red team won with a score of 10680 to 8765.

--WIP--