Intercontinental Airways VA (tag IAVA) is a virtual airline originally founded in late August 2011 by HawkbitAlpha and Darris XTMRage on August 31st, 2011. Together with Penguin Airways, IAVA helped create a resurgence in the civilian YS world that would eventually give rise to the more successful Hawaiian Airways. Today, it is a fully-owned subsidiary of Abel Jets Group, operating as AJG's primary feeder airline.
IAVA first grew its business primarily through an unconventional campaign of pilot recruiting by its CEO, HawkbitAlpha, which spanned multiple YS servers. A week after its foundation, acf492, a real-life pilot responsible for creating the Civ-02 Civilian Group manual, joined the VA; initially entering as a pilot, acf was quickly promoted to the position of Executive Officer (EXO). After a month of operation, IAVA was officially granted Certification-In-Progress (CIP) status by YSFHQ, with 7 pilots in its roster at the time.
IAVA's staff and members held most of the company's discussion outside of YS on its Forumotion board. In March 2012, a hostile raid on the VA's forum, compounded by Hawkbit's handling of the situation, thoroughly shook its membership to the point that many of the active pilots left. Though Hawkbit and acf attempted to carry on IAVA's operations by searching for new pilots to hire, the effort failed, partially due to Hawaiian Airways's growing dominance of the civilian YS sector at the time. Ultimately, IAVA faded into obscurity by the end of 2012, before being officially shut down by CEO Hawkbit in 2014. The VA's Forumotion site was eventually locked for good and deleted in 2017.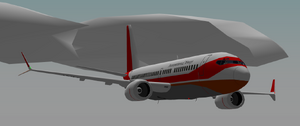 Plagued from the start with problems, IAVA did not have a fleet pack for more than a year after its foundation, and, in its CEO's words, "by the time we finally received a fleet pack, there was no one left to even fly with it." Hawkbit's wild ambitions for the VA's operations also served as a detriment to the organization; for example, one of his propositions for the VA's fleet pack was to include a fighter jet to serve as an escort (this idea stemmed from his ongoing vendetta with the 171st at the time). The airline's poor organization could be best represented by its fleet pack, consisting of three airliners all painted in different patterns - a product of Hawkbit and acf separately presenting their own livery proposals (Hawkbit for the 747 and 777, and acf for the 737 MAX 7) to two different modders. Today, Hawkbit refers to his dysfunctional operation of IAVA as a prime example of how not to run a YS virtual airline.
Successor projects (2014-2020)

[

edit

|

edit source

]
Using the aircraft of IAVA's ExpressBlue merger, Hawkbit created plans in 2016 to launch a new cargo airline named Revenant Express, but these plans failed to materialize due to his enlistment in GrunSolutions PMC.
In August 2018, Hawkbit attempted to fully re-launch Intercontinental Airways with a new structure and staff team (while reusing the same fleet pack), but again quickly abandoned the effort due to a combination of technical problems and an overall lack of activity in YS civil aviation.
Under Abel Jets Group (2020-)

[

edit

|

edit source

]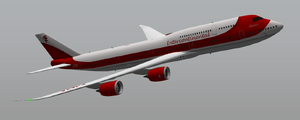 In November 2020, Hawkbit, having moved away from the civilian sector due to his activity in 2UCW, submitted the former Intercontinental Airways brand and assets to the civilian YS community through a thread on YSFHQ. This offer was quickly taken up by Abel Jets Group executives FreezingFalcon and Thomascook221, who proposed to re-purpose IAVA under the AJG umbrella. Its acquisition was confirmed on November 15th, 2020 by FreezingFalcon, who stated on YSFHQ that IAVA would be reworked to "operate as both [a] long-range feeder airline to destinations that Abel Jets Group's current fleet do not operate to and also as a backup to the main Abel Jets Group fleet."
On December 31, 2020, the three new aircraft of the IAVA fleet were released with Abel Jets' overhauled 8.0 fleet pack. Along with a recreated version of the original 737 MAX 7, IAVA's 747-400 and 777-300 were replaced by the 747-8i and 777-9; all three received a modified version of the airline's original red-and-white livery, as well as new tail numbers and names.
Community content is available under
CC-BY-SA
unless otherwise noted.