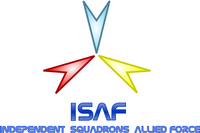 About The SquadronEdit
The Independent Squadrons Allied Force (ISAF) is a Japanese coalition of multiple squadrons. While some of the squadrons that are part of the coaltion (such as Squadrons Without Borders) have been around before the formation of the ISAF, the ISAF as a force was formed in July 2010. The ISAF is run by the Japanese player Flipper, who also runs the ISAF server.
Squadron ObjectiveEdit
The Coalition was formed for the purpose of exchange of personnel and forces, joint operations, training, planning and overall cooperation between the squadrons as an allied fighting force. As for the individual squadrons, they are all combat squadrons.
Information
Edit
General InformationEdit
Organisation: The ISAF is divided into four seperate sub-squadrons. ISAF Executive Staff: Commander of the ISAF: Flipper Principal Units These are currently active units. Raven Squadron "RavenSQ"
CO: Kisuke (TAC Name: Ocean)
Principal Roles: Training Squadron/Aggressor Squadron
Main Aircraft: CFA-44 Nosferatu
Secondary Aircraft: Su-47 Berkut, Su-35BM Superflanker, F-14E Tomcat, F-15 ACTIVE, ADFX-01 Morgan
Scopion Squadron "ScopionSQ" (Scorpion Squadron)
CO: Valentina (TAC Name: Mystia)
Principal Roles: Multi-role Squadron
Main Aircraft: F/A-26 Anatares
Fernir Squadron "3rdSQ"
CO: Azelf (TAC Name: Fernir1)
Principal Roles: Multi-role Squadron
Main Aircraft: F-22 Raptor
Adamas Squadron
CO: Adamas
Principal Roles: Unknown
Main Aircraft: F-15 ACTIVE
Inactive Units
These are no longer active units.
Squadron Without Borders (SWB)
CO: Adamas
Principal Roles: Multi-role Squadron
Main Aircraft: F-15 ACTIVE
The Squadron Without Borders, which was formerly part of the ISAF was formed in March 2003. The ISAF itself was formed on the 11th July 2010 by Flipper and the SWB was absorbed into it, but the SWB later broke up in December 2010 and formed into Adamas Squadron which is still being put in place as of 8th August 2011.
External links
Edit