Chopper is a technical veteran in the community. He was introduced to it by his friend/ YouTube partner BlazeWardog016 in December 2017, he joined Blaze in SARF (UPEO) branch on December 12, 2017. Days later he was kicked off from SARF because of an infraction. He joined Blaze in a new squadron of the 66th AirForce Unit to continue to learn about YSFlight and also being able to make videos of Ace Combat in YSFlight.
As of 2019, he owns the 1st virtual fighter wing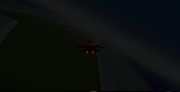 Chopper Joined YSFlight and was introduced to it by his partner BlazeWardog016 on December 11,2017; to learn more than what he has inhabited on Namco Bandai's Ace Combat Series since he was 4 years old. With Chopper not familarized with the community he joined with his YouTube partner Blaze in early December 2017 in the 
Special Armed Response Force
 (part of the 
Neo-United Nations
 alliance) as on standby due to his personal life issues. Finally on December 12th, He has YSFlight and was deployed to SARF-UPEO by Indigo as [SARF-UPEO]3-2. 2 Days later his training begins with his YouTube partner Blaze and two others due to the inactivity of his leader during the training session. On the former VFA-49th server (currently Brotherhood of Honor) A nasty conflict between Blaze and BoH began. Chopper barely knew what was going on and was confused and didn't know how to fly. When Chopper got into the air BoH later engaged the 3 UPEO pilots with Chopper struggling in the air. He let out three flares but still was engaged and starting fighting despite struggling with his craft, Blaze and the BoH Pilots got into a fight with the chat and in flight. When another pilot Sierra appeared in the server as a civilian plane Chopper figuring out how to switch targets, he accidentally shoots Sierra's civilian plane blowing it up. When Chopper and the two other UPEO Pilots (one of them being Blaze) are reported by a BoH member the three were grounded from flying for 4 days with Chopper very upset about it. He confronts indigo to give him a pass due to him not knowing how to fly, and being a UPEO rookie which would lead to Chopper and Indigo getting into a nasty argument over it. Finally by December 16,2017, Chopper is kicked from SARF-UPEO from lashing out at Indigo from the incident on the 14th on December 19,2017. Blaze leaves SARF cause of Chopper being kicked and disagreeing on how it all played out a day later. Chopper joins Blaze in the squadron that is now the 66th AirForce Unit. He now flies on Blaze's side supporting him as one of his pilots. He hopes that one day the 66th will be recognized for the valiant effort they put in to keep the squadron alive forever.
Community content is available under
CC-BY-SA
unless otherwise noted.