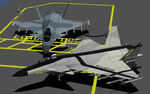 About The SquadronEdit
Apostle Squadron is a 2-man flight that have been sighted at least once on every major server. There have been many rumors that exist as to exactly who they are, but nothing has been confirmed - except that Apostle 1 has personal ties with Iceman, who painted their flagship J-10X. It is currently unknown who the Apostle Squadron are.
Combat RoleEdit
The Apostle Squadron has been sighted providing all sorts of military services, including escorting, interception-without-engaging, and SEAD.
J-10X
The J-10X is the Apostle Squadron's only known aircraft of choice. It is well balanced for any role that needs a medium-sized fighter bomber aircraft, and Apostle Squadron performs very well with what they have chose.